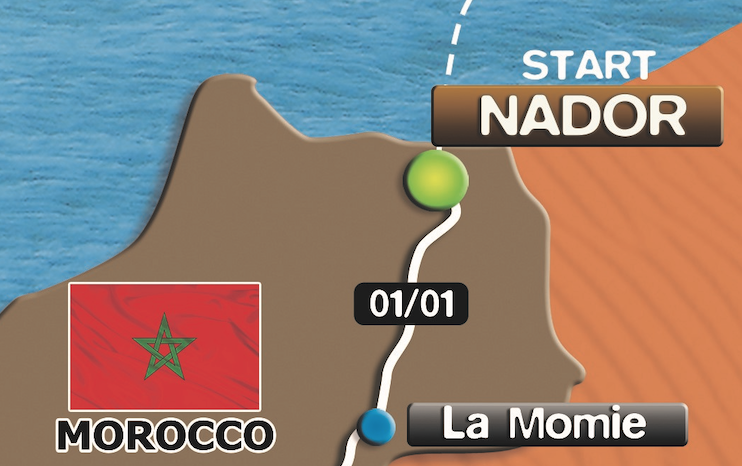 Tuesday January 1st 2019: Stage 1
NADOR / LA MOMIE: 648,68km
Liaison : Nador / Ameziane: 54,79km
Leg: Ameziane / Merada: 90,57km
Liaison: Merada / La Momie: 503,32km
For the AFRICA ECO RACE® caravan, the year 2019 will begin with the early morning arrival of the GNV ferry in Nador. After two busy days at sea, navigating from the South of France, with many briefings and trainings for security and navigation equipment, this stage will be the perfect warmup. It will also be the opportunity to understand the difficulties of the rally when it comes to navigation and the numerous new tracks. For the drivers, some gravel tracks with a few technical passes will enable them to get slowly accustomed behind the wheel or handlebar of their vehicle. After the arrival, there will be a last 500km of liaison to the bivouac set up in La Momie, a location named after the famous movie that was filmed there.
Press Release
AFRICA ECO RACE: A NOT SO CALM FIRST STAGE! 

This Tuesday 1st of January, at 6AM sharp, the "GNV CRYSTAL" ferry transporting the AFRICA ECO RACE caravan arrived at Nador port in Northern Morocco. After customs formalities, that were longer than usual due to a new software inaugurated that day, the race was able to start two hours late. A delay without consequence other than give the motorbike competitors a warmer start.
BOTTURI, powerful start
Even if this 90km stage didn't included much difficulty on the technical aspect but, as René METGE said during the general briefing on the boat, the navigation wouldn't be easy. The Sports Director of the stage could not have been more right as most of the Bike competitors had a hard time finding their way. The only to have perfectly managed his navigation was Alessandro BOTTURI who, on his factory YAMAHA, and therefore was ahead Pal Anders ULLEVALSETTER and his KTM by more than 6 minutes. Quite some difference for a 90 Km stage but it won't be hard for the Norwegian to get back on track, unlike Francisco ARREDONDO, one of the favorites of the race, who was 30 minutes behind the winner of the day. On the other hand, Richard KAYE did a good performance with a 3rd place today on his KTM. 
LAURE and CRESPO, against all odds in the car category
Starting ahead of the category from Ameziane, village situated 55km from Nador, Dominique HOUSIEAUX and Arnaud DEBRON were not caught up by the competition and it was only after the arrival of the 9th competitor that we realized that the Buggy OPTIMUS N°200 was leaded on the scratch by 58 seconds. The best time of the day is for Dominique LAURE, perfectly navigated by Christophe CRESPO, them also on one of the seven OPTIMUS of Team MD Rally participating this year. A great performance for this gentleman driver, part of team "Les Fous du Volant", which were noticed before in 2018 by getting first place on the hardest stage from Amodjar to Akjoujt in Mauritania. "Rock and gravel", nickname for David GERARD and Pascal DELACOUR, on the other OPTIMUS with "Fous du Volant" colors, complete the podium, ahead of Patrick MARTIN and Didier BIGOT TAREK MERCEDES Buggy. The first 4x4 vehicles in the ranking will be Alexey TITOV and his monstrous FORD RAPTOR as well as Andrey RUSOV, first of the T2 category. The Russians were ahead of the NISSAN Pick-up of Francois and Stéphane COUSIN, surprised and happy to find themselves in the top 10. In the SSV category, good start for Jean Hugues MONEYRON and Thierry BERRAZ who arrive in 12th place in front of veteran Jean Claude RUFFIER's POLARIS RZR. On the other hand, unfortunate ordeal for Philippe PINCHEDEZ and Francois BEGUIN who see their chance at winning the SSV category blown away after their CAN AM fell in a hole while trying to pass another competitor. Last we heard, the team and vehicle were being brought back by the Balai truck. 
In the Trucks category, onboard his IVECO, the Belgium Igor BOUWENS did good by being only 11 seconds away from the winner of the scratch Dominique LAURE. A great success for this driver who is participating for the first time in the AFRICA ECO RACE, following his father's steps. Good result also for Elisabete JACINTO who ranks 2nd position in the category in her MAN and 4th in the scratch. Tomas TOMECEK, prudent as the navigation was complicated for a solo driver, end up last on the podium. 
 
Tomorrow, Wednesday 2nd of January, after a very cold night, the stage of 430km that will bring our competitors from La Momie to Agdal, will include all types of Moroccan landscapes. A stage that will definitely open hostilities on this 11th edition of the AFRICA ECO RACE.  
 
THEY SAID 
Dominique LAURE – TEAM MD / CAPCOM – BUGGY OPTIMUS: 1st Stage - 1st Overall Auto/Truck 
I can safely say that this 2019 edition is starting well. I am very happy about this victory but also surprised because we drove without taking any risks. Congratulations to Christophe, my co-pilot who again did some excellent work. 
Dominique HOUSIEAUX – TEAM MD RALLYE SPORT – BUGGY OPTIMUS: 3rd Stage and 3rd overall Auto/ Truck  
It was a first time for me in this car and also the first time driving with Arnaud DEBRON. I therefore was prudent. The car is wonderful, and Arnaud was perfect as we could have really lost time, furthermore that we were the first car on track. Today was like a big prologue, tomorrow will be another story. 
François COUSIN – TEAM COMPAGNIE DES DUNES – NISSAN NAVARA: 10th Stage and 10th General Auto/Truck 
I participated 2 years ago on the AFRICA ECO RACE in SSV. This time we decided to come back in a "real" car. It's the first time driving the Nissan Pick-up. I am nicely surprised by the efficiency of the automobile on this special sector. We are of course very happy of our ranking today.
Jean Hugues MONEYRON – TEAM PINCH RACING: CAN AM X3:  14th Stage and 14th General Auto/Truck and 1st SSV. 
This AFRICA ECO RACE is bringing me home on track. I know the road is long and the difficulties multiple. So I'm taking things calmly. Apparently, today was enough to win. We will continue with this rhythm in order not to break anything.    
Alessandro BOTTURI – ENERGIA & SORRISI RALLY TEAM - YAMAHA: 1st Stage and 1st General Auto/Truck 
This first special sector was very complicated when it comes to navigation. Even though I made a mistake on km 9, I found the right tracks. My YAMAHA is perfect for this track and I am happy to start the rally with a win.  This first special was very complicated in terms of navigation.
Franco PICCO – TEAM FRANCO PICCO RACING – YAMAHA: 24th Stage and 24th General Moto
As the organisation has predicted, the track included many direction changes with several tracks with few marks. As many, I lost a lot of time. But the road to DAKAR will be long. 
Elisabete JACINTO – TEAM BIO RITMO – MAN: 4th Stage and 4st General Auto/Truck
I am happy to start with a win. The truck is still warming up but I am already satisfied by the suspension reaction which will be one of the keys to perform in this category. I am looking forward to the long stages and large spaces which are more adapted to my driving.