DO NOT MISS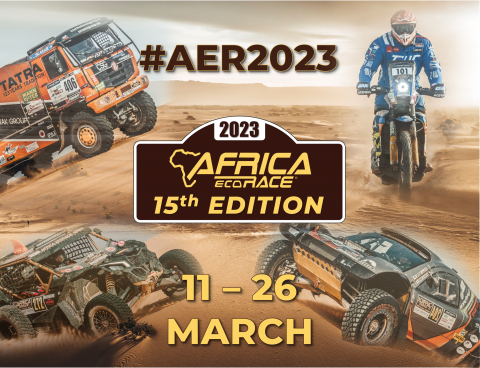 Only a few days after the registration closing of the Africa Eco Race 14th edition, Jean-Louis SCHLESSER announces the dates of the 15th edition taking place in March 2023. The official start will take place on the 11th of March 2023 with a Lac Rose arrival ceremony on the 26th of March 2023. Stay tuned for more details about the 2023 edition. In the meantime, follow the 2022 race taking place from the 15th to the 30th of October.

06/23/2022
AFRICA ECO RACE 2022 - THE ROUTE

03/15/2022
AFRICA ECO RACE 2022 - TEASER 1

07/06/2020
WE TALK ABOUT THE "RACE TO DAKAR 2021"

04/02/2020
THE RACE TO DAKAR 2020 - RELIVE THE ADVENTURE

04/02/2020
BEST OF AFRICA ECO RACE 2020 - MONACO TO DAKAR
A big congrats to Jean Louis and René for having the vision of keeping this race alive, a traditional race, from Europe to Dakar, and making it the success that it has become today !

Lyndon POSKITT - AER2020 MOTO
You dream of dunes and beautiful landscapes, follow us to the Lac Rose !

René METGE
Solidarity and unity, the AFRICA ECO RACE is a rally at the origin of our values and this must remains...

Abdou THIAM - Président de la FSAM
AFRICA ECO RACE is also mutual help and friendship between the competitors

Jean Louis SCHLESSER
The main feeling at the Africa Race, during the day, on the race, the evening at the bivouac, the briefings, is the spirit of mutual aid… It is a big family !

Marc LEROY REMY - AER2020 AUTO
We congratulate AFRICA ECO RACE for their support AMADE and enabling Mauritanian and Senegalese students to have access to solar lamps. A child with light at home, is a child able to do his homework when night comes.

Jérôme FROISSART - Directeur AMADE Mondiale
It's a race with values , human values, eco-responsable values… A true and efficient aid for the Children of Africa and that is important !

SAS Prince Albert II
This event created by Jean Louis SCHLESSER and René METGE is a precise cocktail where the pleasure of racing bonds with the beauty of the landscapes and the nice atmosphere between everyone on the bivouacs

Franck ALLARD - AMV assurances
The enthusiam and passion of the team as well as their constant research of bringing eco-responsable actions to their event, make the AFRICA ECO RACE one of the unmissable events of the Principality and we are proud to welcome them every year. We encourage everybody to buy a maximum of solar lamps provided by AMADE and AFRICA ECO RACE. More than a daily use, they will enable senegalese and mauritanian children to walk safely home after dark and will contribute to reducing the racing vehicules' carbon footprint.

Kate & Didier - STARS'N'BARS
The AFRICA ECO RACE is for me a competition which was able to keep the values of the heart and spirit, in a cinematographic scenery. In one word: an adventure !

Alexandre DEBANNE - AER2020 SSV