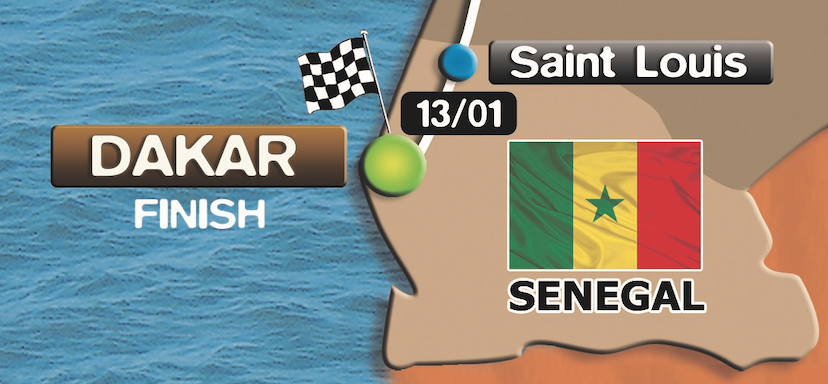 Sunday January 13th 2019: Stage 12
ST LOUIS / DAKAR: 299,75km
Liaison: St Louis / Niokhob: 229,67km
Leg: Niokhob / Lac Rose: 21,93km
Transfer: Lac Rose / Dakar: 48,15km
After a night under the starry skies of Senegal, the sun won't be up yet but competitors will begin their liaison towards Niokhob, fishing village along the Atlantic, located not far from Dakar. The traditional starting grid will be on the beach. A unique moment et the last chance to go full throttle and compete for the podium in this mythical special sector to the Lac Rose. These 22 last kilometers will be the winning streak for some, and for others, profound relief. The last formalities of this adventure will be participating in the award ceremony organized by the Senegalese Federation of Auto and Moto sport. The podium on the shores of the Lac Rose will be the opportunity for all heroes of this beautiful adventure to be congratulated by the officials, passionate, family, partners and friends present at the arrival of this 11th edition of the AFRICA ECO RACE®.
Press Release
THE HEROES HOSTED IN LAKE PINK
After a night under the starry sky of Senegal, the sun was not up yet when the competitors of the AFRICA ECO RACE 2019 embarked on the final connection to Niokhob, located not far from Dakar.
As is the tradition, it was on the beach that the competitors took the start of the final day of this 11th edition of the AFRICA ECO RACE. The Pink Lake and the public came in number for the occasion celebrated these heroes who managed to reach Dakar after more than 4 000km of specials. All participants had to leave the bivouac in the early morning to join the start of a final stage without issues. After 229 kilometers of liaison, it is on the beach at the edge of the Pink Lake that they started for 22 kilometers. A last opportunity to release the horses to celebrate the end of the competition before taking the podium to definitively close this AFRICA ECO RACE 2019.
A reward for some while for others, it is rather a deliverance. This last day was celebrated in the middle of a crowd where the locals and the entourage of some competitors came to enjoy the show. Jean-Pierre Strugo and François Borsotto in cars, Alessandro Botturi in motorbike and Elisabete Jacinto, Jose Marques and Marco Cochinho in truck, are the big winners of this edition!
Overall Ranking
Cars :
1. Jean-Pierre Strugo / François Borsotto n°203 (FRA)
2. David Gerard / Pascal Delacour n°210 (FRA)
3. Jean-Noël Julien / Rabha Julien n°208 (FRA)
Bikes :
1. Alessandro Botturi n°103 (ITA)
2. Pal Anders Ullevalseter n°100 (NOR) 
3. Simone Agazzi n°116 (ITA)
Trucks :
1. Elisabete Jacinto / Jose Marques / Marco Cochinho n°404 (PRT)
2. Noël Essers / Marc Lauwers / Johan Cooninx n°401 (BEL)
3. Johan Elfrink / Dirk Schuttel n°402 (NLD)