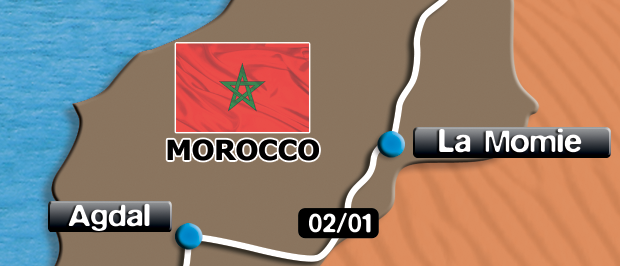 Wednesday January 2nd 2019: Stage 2
LA MOMIE / FOUM ZGUID: 433,89km
Liaison: 2,67km
Leg: La Momie / Foum Zguid: 431,22km
Finish at the Bivouac
After a night, where negative temperatures aren't uncommon at this time a year, the competitors will be amazed when stepping out of their tent, as they will be able to contemplate the mountainous panorama of La Momie, enlighten by the morning sun of Morocco. Even though well known by the regulars of the AFRICA ECO RACE®, this second stage will include a new dune chains and a brand-new track. An interesting rally start that won't be as quiet as usual on this 400km of special sector. The experienced navigators will be able to pull through without much of a fight, as well as the other drivers who will have to be vigilant to avoid the traps of Moroccan tracks. As on half of the 12 stages of this 11th edition, the arrival will be at the bivouac. A good way to avoid any liaison issues et enable maximumrest.
Press Release
A SELECTIVE SECOND DAY

In the end, the first Moroccan night on the Bivouac of La Momie wasn't as cold as cold as predicted as the temperature did not go bellow 3 degrees. Luckily because after this first long stage of the 11th edition of the AFRICA ECO RACE, some competitors arrived very late. Therefore, repairs and maintenance went on a good part of the night. Nevertheless, besides Philippe PINCHEDEZ who is forced to abandon after his CAN AM SSV drove into a rift, all the participants were at the start this morning. On today's stage, 430 kilometers that will be challenging for many. 
ULLEVALSETER getting things back in order
Leaving 2 minutes after the YAMAHA of Alessandro BOTTURI, Pal Anders ULLEVALSETER  was able to catch up on his time difference with the Italian in only 80 km. From then onwards, the Norwegian and his KTM stayed close to the general ranking leader until the arrival at the bivouac, a few kilometers from Foum Zguid. Therefore, the triple AFRICA ECO RACE winner took back 1'40'' general and underlines the velocity of his competitor on track. We had to wait until 27'21'' to see the 3rd moto arrive, the HONDA of Italian pilot Simone AGAZZI, happy of his performance which gets him onto the podium, for now. Following in 4th place at 44'09'', Martin BENKO, 3rd of the 2018 edition. The Slovakian is ahead of Felix JENSEN, student, co-competitor and compatriot of ULLEVALSETER who continues to progress. Solid performance also by French driver Philippe CAVELIUS who, without a GPS issue would have been in the top 5. 

 Second one for the LAURE-CRESPO team in auto 
In rally-raid, the biggest difficulty is to be the first car to open the festivities. It's this perilous experience that Dominique LAURE and Christophe CRESPO, winners of yesterday's stage, were confronted to. But today, as this rarely happens, the leaders of the general ranking drove a perfect stage. They were never caught up and therefore boast a second consecutive victory. A magnificent performance for the OPTIMUS N°211 team who are preserving their leadership. Another OPTIMUS Buggy takes the second place today. The one of Jean Pierre STRUGO and Francois BORSOTTO, delayed for nearly 10 minutes after hitting a rock and damaging his rim that will need to be changed. And as we say in France, "Never two without three", Philippe GOSSELIN and David BONON complete the auto podium with their OPTIMUS N°209 with "Fous du Volant" colors. They were ahead of Yves FROMONT and Paul VIDAL's TAREK by less than 3 minutes. The latter decided to use their knowledge and previous experience of these tracks to enter the top 5 by avoiding all difficulties, especially the Erg de Chegaga where many four-wheel competitors were struggling. 
TOMECK brings order back in the ranking 
On the truck side, even if they had to take out their shovels and platters, Tomas TOMECEK in his TATRA and Elisabete JACINTO, José MARQUES, Marco COCHINHO in their MAN end the race in 8th and 9th position for today's special sector Auto/Truck ranking. They also have the same ranking in general after this second stage where most of these desert beasts have a hard time to join the arrival.  
Tomorrow, the third stage will bring the caravan of the AFRICA ECO RACE towards Assa. A special stage 400 km long of typical Moroccan landscape will be awaiting the competitors, who will have to take it easy if they do not want to encounter any issues. 

THEY SAID

Alessandro BOTTURI – YAMAHA – ENERGIA 1 SORRISI RALLYE TEAM: 2nd stage – 1st  general moto
It was a special long and varied special stage The navigation wasn't easy but I have never seen road-books as precise as this is. With Pal Anders, we spent 5 hours on the motorbike to do 430 km. Behind us, many will suffer today but It was a pleasure driving alongside ULLEVASTETER. It was a good collaboration. 
Philippe CAVELIUS – KTM – CAVELIUS TEAM: 7th stage – 6th  overall moto
This special stage was particularly tough. A GPS problem bothered me on the first part of the track. Even so, it was a pleasure to navigate and drive in these beautiful landscapes. Nothing to be added, Africa is really a beautiful continent to rally in and I am happy to be here again.  
Simone AGAZZI – HONDA – RS MOTO HONDA RACING TEAM: 3rd stage and 3rd overall moto
Today, the special stage was extraordinary. It was a mix of all: endurance, cross, dunes, rolling parts. A real pleasure. On the other hand, the navigation was not easy at all but if you follow the road-book carefully, it's fine. 
Yves FROMONT – Buggy TAREK – Team FROMONT: 4th stage and 7th overall auto/truck.
After a complicated first day, we did better today. We lost a big quarter of an hour after losing ourselves in the plateau of the Atlas. But finally, our experience helped us not to make any driving mistakes and it ended quite well. The race is ON and Dakar is still far away. 
Elisabete JACINTO – MAN – TEAM BIO RITMO: 9th stage and 9th overall
We got seriously stuck at the top of a dune which made us loose approx. 30 minutes. But it is part of the game. I am very happy of the development with my truck. I really hope we will continue like this and erase the bad memories of the two last years at AFRICA ECO RACE.