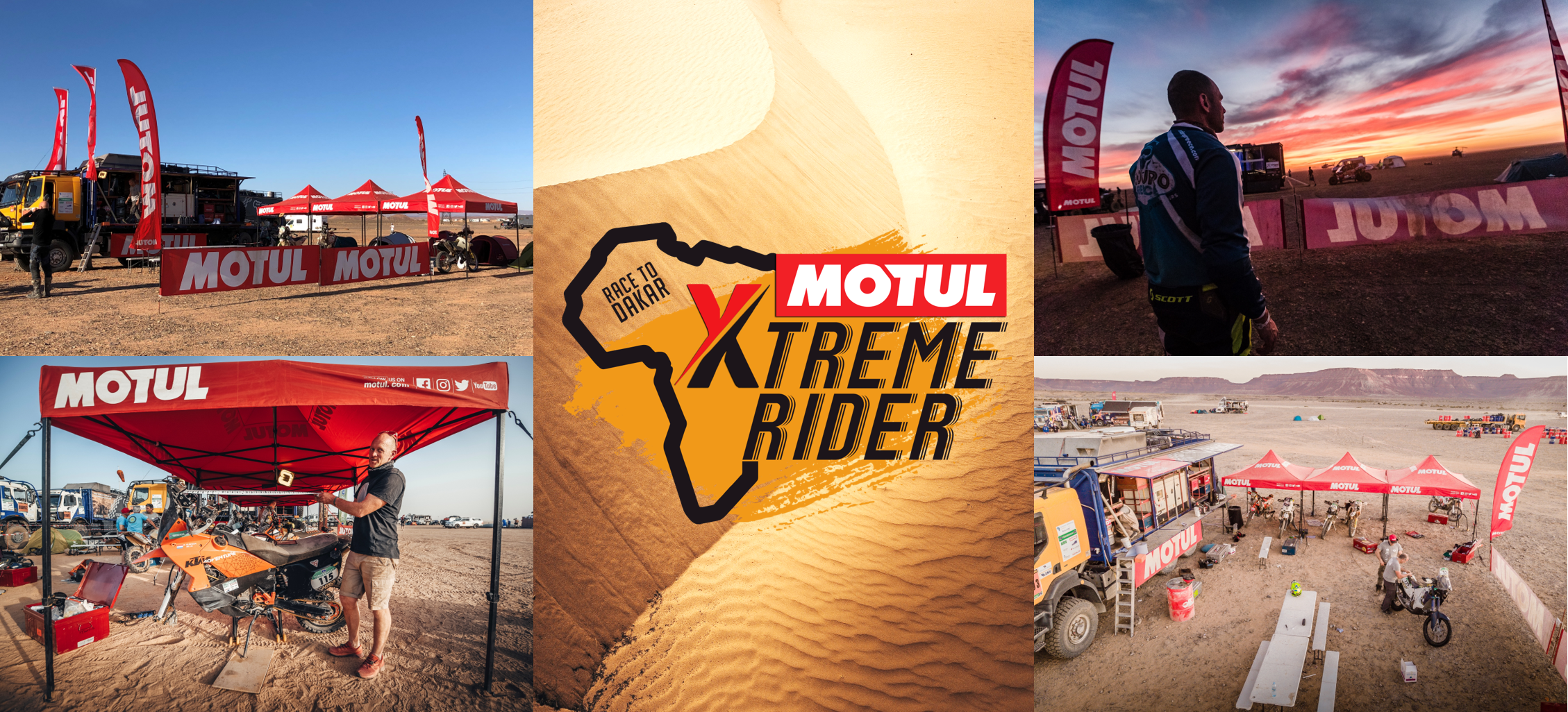 MALLE MOTO - MOTUL XTREME RIDER
RIDER WITHOUT ASSISTANCE
Some Moto/Quad riders wish to participate in the AFRICA ECO RACE to challenge themselves and experience the rally the « hard way », like a hero.
By entering in the MOTUL XTREME RIDER Malle Moto, the organization will transport for you the following:
2 trunks of 80 litres
1 tent (type 2 seconds)
2 tires
Every MOTUL XTREME RIDER participant will also benefit of the following from 3rd of January in Menton:
A DEDICATED STRUCTURE
-  Assistance park with a large area and Motul tents for mechanical work.
-  Lighting
-  A convivial area with tables and chairs for riders to share their experience and emotion with others.
DEDICATED EQUIPMENT
-  A generator
-  Bike stands
-  Motul lubricants and cleaning products provided by the brand – upon available stock  
AVAILABLE PERSONNEL
The truck teams will be present at your arrival at the bivouac. They will do all they can to assist these incredible riders: reassure, listen, help, support. Key words for such an adventure !
A MOTUL XTREME RIDER TROPHEY
A dedicated ranking will be put up every day at the truck and at the end of the rally:
-  The winner of the category will be awarded a dedicated trophy on the podium at the famous Lac Rose, Dakar.
-  The other riders of the MOTUL XTREME RIDER category that will have ended the race will receive a "finisher medal" on the podium at the Lac Rose, Dakar.
A DEDICATED COMMUNICATION
In order to put forward these riders, the organization will provide the following:
-  A daily mini-clip MOTUL XTREME RIDER
-  LIVE FACEBOOK from the bivouac in the « BIVOUAC INSIDE »
-  Shared video coverage of the event on social media as well as the AFRICA ECO RACE programs.
-  Photo posts on all social media channels
 THE MOTUL XTREME RIDER EXTRAS
-  Backpacks
-  Neck bandana
-  Cap
SOME GOODIES
-  Pen
-  USB key
-  Booklet
-  Lighter
-  Gloves
-  Silicon bracelet
-  External USB charger
MOTUL XTREME RIDER FEE -> 900 €
Limited availability