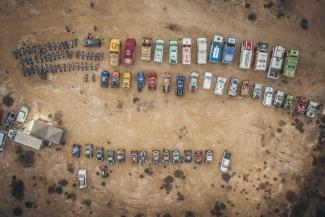 RACING CATEGORIES
    Car / Truck:
Prototype cross-country cars (T1), series production cross-country cars (T2), lightweight prototypes (T3), modified production cross-country side by side (T4), prototype cross-country trucks (T5)
    Motorbike:
450cc, +450cc, Open, +650cc twin, Experimental

THE RAID XPERIENCE
This category will enable people to discover the world of off-road rallying or to improve their skills before moving up into the real race; No chrono or pressure, a minimum of preparation for a maximum of pleasure and discovery.

Experienced guides will be on board to provide advice and accompany you in this journey, such as David FRETIGNE with his HONDA OFF-ROAD CENTER.
This RAID category is open:
    To all cars and/or trucks, historic before 1986 or current
    For motorcycles, from 450cc and up
COMPETITIVE RATES
Despite the increase in fuel cost, the registration fees for the AFRICA ECO RACE 2022 remain unchanged and therefore the prices are not impacted!
As usual, the prices include, among other services:
    One way transport of passengers by boat, a perfect way to get to know each other better and/or reconnect with past competitors; that's the family/friends DNA of the AER
    Round trip transport of vehicles with a Dakar / France return in record time; saving time to get off to a better start
    No ATA carnet, the organization takes care of everything. No more heavy administrative procedures for the teams
Register and take advantage of the preferential rate ending June 30, 2022 and for the female competitors, there is a 10% reduction on the registration!
Jean-Louis SCHLESSER and his team are more motivated than ever and look forward to meeting you to welcome you to this new edition of the AFRICA ECO RACE 2022.
 
Stay tuned, more exciting news coming soon