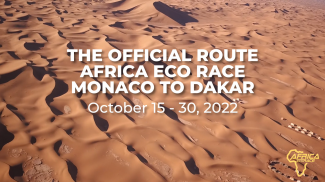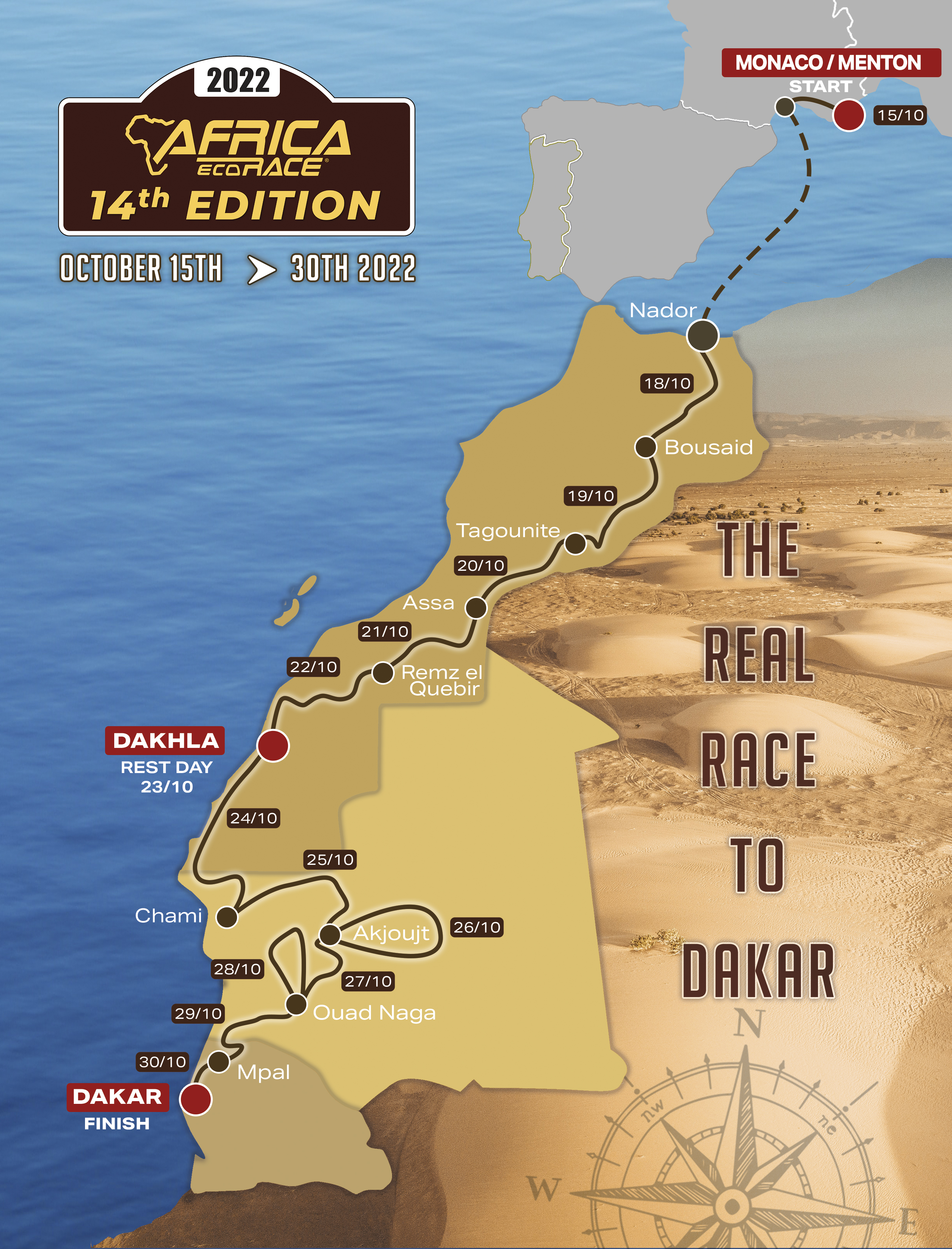 FRIDAY OCTOBER 14, 2022
ADMINISTRATIVE & TECHNICAL CHECKS : MENTON
PARC FERME : MONACO

SATURDAY OCTOBER15, 2022
ADMINISTRATIVE & TECHNICAL CHECKS : MENTON
PARC FERME : MONACO
NIGHT START OF THE 2022 AFRICA ECO RACE: MONACO

SUNDAY OCTOBER 16, 2022
BOAT BOARDING: SETE

TUESDAY OCTOBER 18, 2022
STAGE 1: NADOR / BOUSAID: 605.18 kms
Liaison:     117.94 kms
Special:     93.97 kms
Liaison:     393.27 km
Short special stage, 100% new, between several crops, on a narrow track before a slightly mountainous part.

WEDNESDAY OCTOBER 19, 2022
STAGE 2: BOUSAID / TAGOUNITE: 466.33 kms
Special:     447.95 kms
Liaison:     18.38 km
Departure from the bivouac for a long special stage, with a brand new part.
Increasingly sandy grounds.
First passage on the dunes of Merzouga then usual Moroccan tracks.

THURSDAY OCTOBER 20, 2022
STAGE 3: TAGOUNITE / ASSA: 526.34 kms
Special:     465.89 kms
Liaison:     60.45 kms
Long special stage from the bivouac.
Gravel tracks to the erg of Chegaga .
Crossing of some dunes before entering the stony tracks.

FRIDAY OCTOBER 21, 2022
STAGE 4: ASSA / REMZ EL QUEBIR: 455.42 kms
Special:     455.42 kms
Departure / arrival bivouac.
Crossing a mountain range before arriving in a more sandy region of Morocco.
New tracks and plateaus towards some dry lakes.

SATURDAY 22 OCTOBER 2022
STAGE 5: REMZ EL QUEBIR / DAKHLA: 691.77 kms
Special:     450.82 kms
Liaison:     240.95 kms
Departure bivouac.
Mix of very fast and sandy tracks with very few marks for navigation.
Arrival in Dakhla on the edge of the Atlantic Ocean.

SUNDAY OCTOBER 23, 2022
DAKHLA
Rest day

MONDAY OCTOBER 24, 2022
STAGE 6: DAKHLA / CHAMI: 634.68 kms
Liaison:     430.05 kms
Special:     204.63 kms
Crossing border to Mauritania.
Fast special stage on very sandy ground.
Off-road navigation.

TUESDAY OCTOBER 25, 2022
STAGE 7: CHAMI / AKJOUJT: 514.66 kms
Liaison:     19.90 kms
Special:     470.16 kms
Liaison:     24.60 km
One of the longest special stages and announced as one of the most difficult!
Large dune crossing.
Mainly off-track before crossing new cords of dunes.
WEDNESDAY OCTOBER 26, 2022
STAGE 8: AKJOUJT / AKJOUJT: 447.85 kms
Liaison:     24 km
Special:     423.80 kms
1st loop of this 14th edition.
Many new visible and rolling tracks before joining off-track sections.
After the pass of Tifoujar , stony plateau before two passages of relatively difficult dunes.

THURSDAY OCTOBER 27, 2022
STAGE 9: AKJOUJT / OUAD NAGA: 435.56 kms
Special:     411.77 kms
Liaison:     23.79 km
Departure bivouac.
Several passages of dune cords.
A typical Mauritanian stage which is relatively difficult.
FRIDAY OCTOBER 28, 2022
STAGE 10: OUAD NAGA / OUAD NAGA: 478.18 kms
Special:     456.04 kms
Liaison:     22.14 km
2nd loop .
Departure bivouac.
90% sand between dunes and sandy tracks.
Several more or less difficult dune crossings for a final loop stage.
SATURDAY OCTOBER 29, 2022
STAGE 11: OUAD NAGA / MPAL: 456.18 kms
Liaison:     36.55 kms
Special 1:     122.21 kms
Liaison:     222.30 kms
Special 2:     65.48 kms
Transfer:     9.64 kms
Crossing borders with a stage made up of 2 specials, one in Mauritania and the second, unprecedented, in Senegal.
First special stage, between vegetation and therefore tracks not always visible.
Second special on sandy tracks and many non-visible sections, in the middle of green vegetation at this season.
SUNDAY OCTOBER 30, 2022
STAGE 12: MPAL / DAKAR: 271.08 kms
Liaison:     201.00 kms
Special:     21.93 kms
Liaison:     48.15 km
The legendary "Lac Rose" special stage. A fun and sandy track along the beach.
Trophy ceremony on the shores of the lake.