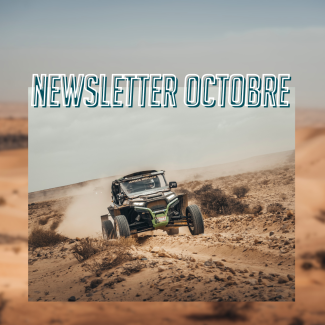 Dear friends,

In less than three months, the Africa Eco Race 2024 "Monaco - Dakar" will begin. Excitement is building, preparations are underway, and we're looking forward more than ever to seeing you on this unforgettable adventure.
Registrations are going well !

We're delighted to see that registrations for the Africa Eco Race 2024 "MONACO - DAKAR" are continuing to enter.  This 15th edition promises to be one of the most exciting ever, with a group of passionate and determined competitors preparing to take on the ultimate challenge: reaching Lac Rose in Dakar. If you haven't already registered, now is the perfect time to do so and join this incredible community of adventurers, all with a passion for mechanics.

CLOSING DATE FOR REGISTRATIONS NOVEMBER 1
An update
on registrations

!
This 15th edition of the "MONACO - DAKAR" marks a return to the historic period of january.
Normality has returned, and the field of competitors is growing by the day. Here's an update on entries at the beginning of October.

An extraordinary adventure, at the wheel of a production or prepared vehicle, without a stopwatch, at your own pace, in the footsteps of the great African rallies.

Motorcycle: 25 competitors.

In cars (SSV, Auto, Camion): 15 competitors.

Our heroes are ready to cover the 6,000 kms between Monaco and Dakar!

Motorcycle: Over 50 competitors.

Cars/SSVs/Trucks: Over 40 competitors.
Zoom category:
The CLASSIC
For its 15th anniversary, the AFRICA ECO RACE revives the tradition of the vehicles that made the renowned African rallies by releasing its new category, the CLASSIC!

An adventure at the wheel of legendary vehicles. Reconnaissance for this regularity race will take place very soon.




Stay informed by following us on our social media channels!
The Africa Eco Race "MONACO-DAKAR" team looks forward to seeing you!
Copyright (C) *|CURRENT_YEAR|* *|LIST:COMPANY|*.
All rights reserved.*|IFNOT:ARCHIVE_PAGE|*
*|LIST:DESCRIPTION|*

Our postal address is :
*|HTML:LIST_ADDRESS|**|END:IF|*

Would you like to change the settings for this type of e-mail?
You can update your preferences or unsubscribe