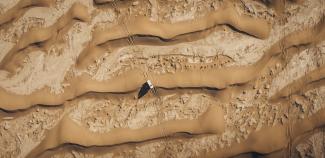 Despite the postponing of the ALGERIA ECO RACE, like many other events due to the pandemic, the situation is calming down and the horizon is clearing up thanks to the different vaccination campaigns.
The worst seems to be behind us and the future promises some better days. As proof, some countries have reopened their borders and the drivers have begun their trainings on site. A real opportunity for countries such as Morocco, Mauritania and Senegal who always welcome us with open arms.
Therefore, all the lights appear to be green for us to finally succeed in fulfilling our passion in 2022.
The final words are for Jean-Louis Schlesser, in charge of the team:
" I'm proud of the team that works on the AFRICA ECO RACE, and which has never ceased to promote this great event despite the difficult times. I believe in a bright future for the AER and I look forward to being able to go to Africa to watch over the competitors from my plane but also to make the most of the good times shared with other enthusiasts like me, on the departures and arrivals of specials, as well as in the evening at the bivouac during our briefings. I look forward to seeing all the enthusiasts in March 2022 for the 14 th edition of the AFRICA ECO RACE. "