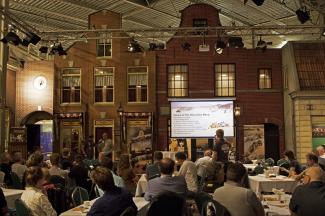 On Tuesday evening in Eindhoven, the Netherlands, more than a hundred competitors from all over the Netherlands and Belgium attended the presentation of the AFRICA ECO RACE 2019, 11th edition.
AFRICA ECO RACE 2019
(30/12/18 - 13/01/19)

"THE UNIQUE MULTI-COUNTRY RALLY! »
In the presence of Gerard DE ROOY, winner of the 2018 edition in the truck category and the main teams from the Netherlands and Belgium, such as Aad VAN VELSEN, Adwin HOONDERT (HOONDERT STAALBOUW), Johannes and Ben VAN DE LAAR (VAN DE LAAR RACING), Johan ELFRIN (ALL STAR RALLY), but also Martin VAN DEN BRINK (MAMMOET RALLY SPORT), Jacky LOOMANS (ART OF SPEED), Stephane HENRARD (HRT), Erwin IMSCHOOT and many others, Jean Louis SCHLESSER has reminded all the values of the AFRICA ECO RACE 11th edition which will be ... "in 2019, the only rally of the year, crossing different countries to Dakar and the legendary Lac Rose ... We keep the same standards with attractive stages of 400 km average, short liaisons and bivouacs with a friendly atmosphere. By arriving on the shores of Lac Rose after nearly 15 days of racing, each competitor will have the feeling of having achieved a real rally, an experience that makes AFRICA ECO RACE unique in its kind ... "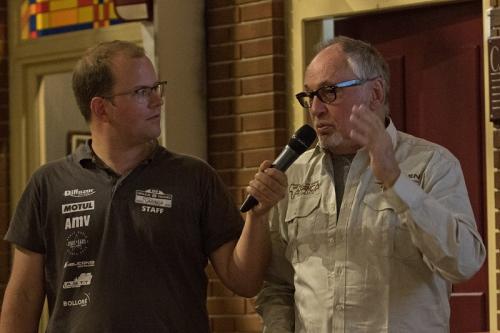 Live on Eurosport and with the presence of RTL7
Concerning television broadcasting, Jean-Louis SCHLESSER, announced a big news about Eurosport's program on the AFRICA ECO RACE 2019. "With a doubled presence and a daily Live throughout the AFRICA ECO RACE ", confirmed the organizer of the event, before letting speaking Frank VAN ZANTVOORT, Head of Sport & Entertainment at RTL Productions, reminding the interest of RTL7, the Dutch generalist channel specializing in motorsport, for the AFRICA ECO RACE.