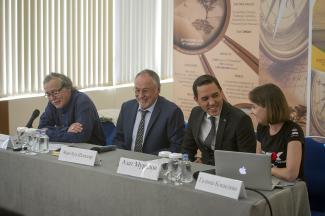 The presentation program has expanded its traditional format. Before an official part of the presentation the head of the race – the legendary Frenchman Jean-Louis SCHLESSER - has held an hour seminar for participants and the press about "How to take part in the international Rally Marathon?" where he has in detail explained the most important aspects – documentary and practical necessary for preparation for a race. The participants of the seminar have talked about safety, logistics, customs formalities, transportation and of course, have mentioned also sports details.
Jean-Louis SCHLESSER declared that the "AFRICA ECO RACE" 11th edition will take place from December 30th, 2018 to January 13th, 2019 with a start in the South of France and the finish at the "Lac Rose" in Dakar.
The magnificent route which traditionally passed through territories of Morocco, Mauritania and Senegal will be prepared for participants of the upcoming edition. The format of marathon will include about 6500 km of a distance, about 4500 km of specials, 12 stages and 1 rest day. Organizers will keep the concept of a race with loop stages in Mauritania and also the marathon stage without assistance, called "500 MILES". More than 70% of routes will be laid on the Sahara Desert and the best sandy ergs, and the foothills, stony plateaus, saline soils and savannas will add a variety of landscapes.
With entries opening on 15th May, the first participants have already confirmed their intention to participate in upcoming marathon. From the Russian teams which were presented at the presentation bike riders of TROYKA TEAM and the Russian-based factory team GAZ RAID SPORT team started their preparation to "AFRICA ECO RACE 2019".

In a final part of the presentation, Jean-Louis SCHLESSER and the press secretary of an open Can Am X Race serie Galina Kosheleva, have emphasized importance of mutual cooperation in a question of development of T3 (class SSV) category at world level. Within the signed partner agreement "AFRICA ECO RACE 2019" will honor a certificate of participation in AFRICA ECO RACE for two winners of the Can Am X Race serie in ATV and SSV categories. As Kosheleva has noted, for 9 years of the successful work Can Am X Race has grown up many talented pilots, such as Sergey KARYAKIN (winner of rally Dakar 2017) and Alexander MAXIMOV (winner "AFRICA ECO RACE 2017), and many participants of a Serie have the same dream – to take part in a marathon and to be on podium in Rose Lake in Dakar.