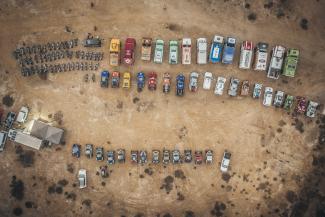 MOTO / QUAD :
CATEGORY 1:     450 cc
CATEGORY 2:     Quad
CATEGORY 3:     + 450 cc
CATEGORY 4:    Open
CATEGORY 5:    + 700 cc Bicylinder
CATEGORY 6:    Experimental
Class 1: Female
Class 2: Junior
Class 3: Veteran
Class 4: Malle Moto / Motul Xtreme Rider (limited places)
CAR / TRUCK :
GROUP T1 : Prototype Cross-country vehicles, 4 and 2-wheel drive, petrol or diesel
GROUP T2 : Standard Cross-country Vehicles, petrol or diesel
GROUP T3 : Lightweight Prototype Cross-country Vehicles
GROUP T4 : "Side by Side" Cross-country Lightweight Series
GROUP T5 : Cross-country Trucks
GROUP SSV XTREME RACE : This category is open to any "Side by Side" machine closest to original.
SSVs in the SSV XTREME RACE category must respect the following minimum weights:
- SSV with atmospheric engine: 825 kg
- SSV with turbo engine: 925 kg
EXPERIMENTAL GROUP : With the development of alternative energy vehicles, this category takes on its full meaning. Whether electric, with photovoltaic cells, hybrid... a category aimed towards the future.