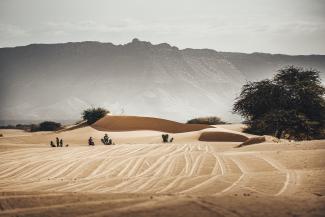 In the Auto category, Patrick and Lucas MARTIN from Team MMO will have to focus to win the 13th edition and who knows, maybe enter the history of the rally by winning twice in a row the AFRICA ECO RACE, which has never been done since Jean-Louis SCHLESSER with 6 consecutive wins.

In the SSV category, more specifically the SSV XTREME RACE, Benoit FRETIN and Cedric DUPLE from Team B2F COMPETITION, will have to measure up to a large competition. Without a doubt, the challenge will be tough and expected to be exciting in the dunes for these super agile machines.
In the truck category, the team led by Mikos KOVACS from QUALISPORT KFT, will for sure give a hard time to Tomas TOMECEK from Team PROMET CZECHOSLOVAK to equal his amount of victories on the AFRICA ECO RACE. An interesting battle ahead unless another desert giant comes along and rattles the prognosis.

On the two wheel side, Alessandro BOTTURI on his Yamaha, along with Pal ULLEVALSETER, who both count 2 victories each, will need to be prepared to stay at the top of their game against the new upcoming riders which showed their motivation last year and want to do better on the next edition.
But beware, a previous AFRICA ECO RACE winner is thinking of joining this party and do his big come back in 2021. To follow…