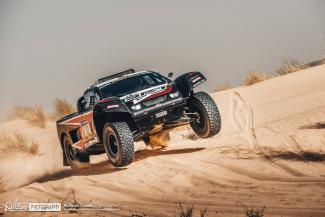 11TH STAGE IN MAURITANIA : AKJOUJT / SAINT LOUIS : 558 KM
GLORIOUS MATHIEU SERRADORI (FRA/MCM), SIMONE AGAZZI (ITA/HONDA) FOR THE HONOR
The last stage of the 10th edition of the Africa Eco Race was here to confirm the winners of the competition. On a fast track of 219 kilometers, all participants could enjoy the last leg with no pressure and putted an end to their efforts over the last 15 days.
What happiness
With a last start on the bivouac this morning, the caravan of the Africa Eco Race could look at the start at sunrise. In a pretty relaxed atmosphere knowing that the podiums were already known, the competitors were especially relieved to leave the biggest dunes behind them. They all desired to finish well and have fun one last time before celebrating the end of a rally particularly intense this year with their teams who came at the finish line.
Serradori and Lurquin relieved, Italy honored
There was a lot of emotion for the Serradori Racing Team as the two heroes of this Africa Eco Race emerged from buggy number 202. After an intense battle for nearly ten days alongside last year's winner, Mathieu Serradori and Fabian Lurquin (FRA-BEL / MCM) win the most beautiful victory of their career. The Franco-Belgian crew was very moved to share this moment with their team on arrival, we even saw a few tears in the eyes of Fabian, so proud to achieve such results after many years of effort and hard work. They finish second of the day's leg, regardless of the time, the main thing was to get to the end.
It's the buggy of Guillaume Gomez and François Borsotto (FRA / OPTIMUS) that makes the scratch today, a last important victory to finish the race after suffering during the first three days due to mechanical problems. Disappointed for not being able to fight for the podium, they were feeling better after this second Mauritanian week.
Vladimir Vasilyev and Konstantin Zhiltsov (RUS / MINI) did not manage to win the race two years in a row. The Russian crew finished second overall and suffered a lot from the Mauritanian sand that cost them a lot this week.
Pascal Thomasse and Pascal Larroque (FRA / OPTIMUS) offer themselves a final podium before officially climbing on the 3rd step at Lac Rose tomorrow.
Despite all his efforts to catch the podium, Gerard De Rooy (NL / IVECO) signed a very good 4th place overall for his first participation and finished at the top of the trucks, about thirty minutes behind Pascal Thomasse.
It was a ggod day for Italy with the leg's victory for Simone Agazzi (ITA / HONDA) just ahead of Paolo Ceci (ITA / KTM) the big winner of this 10th Africa Eco Race. For his second participation, the favorite of this rally held his rank and was congratulated by the double winner Pal Anders Ullevalseter (NOR / KTM) who came to the finish line for the occasion. Forced to give up because of engine problems, the Norwegian could not compete with Ceci this year but looks forward to taking revenge next year.
Luis Oliveira (POR / PROTO) made it to cross the finish line alongside his compatriot Rui Oliveira (POR / YAMAHA). The two Portuguese take respectively 2nd and 3rd place of the overall ranking. A very good performance for Luis, youngest participant who at 25 makes a remarkable entry into the world of rallying.
They said :

Mathieu SERRADORI: "There will surely be more emotions tomorrow at Lac Rose, we had a wonderful race thanks to a great team without whom we would never have done it, three years ago I did not think that we could reach such a level especially against big competitors like Vasilyev. "
Pascal THOMASSE: "We came to play the win, to finish on the podium is a very good result, I do not make forecasts for next year, I'm too young!"
Guillaume Gomez: "It was still a great stage today, almost perfect for us, it feels good to finish like that, we lived three cursed days at the beginning, it's a shame, we immediately lost all chance to fight for the classification but since Mauritania we feel better. I want to congratulate Mathieu Serradori who did a wonderful job. "
Paolo CECI: "I'm very happy to win this year, it was a dream. It was really hard but I did a good job in navigation. I want to thank my wife Sarah who helped me a lot and supported me and of course my whole team too. I had a lot of pressure from the start in Monaco, it was an extraordinary race especially in Mauritania. "
Simone AGAZZI: "I am very happy to win the leg today and especially very happy for Paolo, it was a very good race for Italy and I will remember all my life the Mauritanian sand with its dunes so difficult to conquer. »
RESULTS 11th stage : Akjoujt / St Louis : 558km*
Car / Truck:
1. Guillaume Gomez / François Borsotto n°207 (FRA) 01 :36 :19
2. Mathieu Serradori / Fabian Lurquin n°202 (FRA) + 00 :01 :42
3. Pascal Thomasse / Pascal Larroque n°206 (FRA) + 00 :04 :40
Bike: 
1. Simone Agazzi n°120 (ITA) 02 :00 :39
2. Paolo Ceci n°101 (ITA) + 00 :01 :59
2. Jonathan Blackburn n°128 (GBR) + 00 :06 :35
Overall*
Car / Truck:
1. Mathieu Serradori / Fabian Lurquin n°202 (FRA) 40 :18 :50
2. Vladimir Vasilyev / Konstantin Zhiltsov n°201 (RUS) + 01 :07 :31
3. Pascal Thomasse / Pascal Larroque n°206 (FRA) + 04 :10 :40
Bike: 
1. Paolo Ceci n°101 (ITA) 47 :21 :53
2. Luis Miguel Anjos Oliveira n°114 (POR) + 01 :26 :20
3. Rui Oliveira n°115 (POR) + 06 :43 :27