AN "ECO-RESPONSIBLE" ORGANIZATION

The AFRICA ECO RACE® has clearly indicated its wish to contribute to the long-term development by integrating eco-responsible behaviour into the daily organisation of the race, but also through long-term projects.
Some of the organisation vehicles are equiped by solar panel in order to use the solar energy for realizing their mission without using a classic generator.

The organization collects waste motor oil in order to recycle them back in France after the race.

The emphasis is on the local economy, by using local service providers. In the same way, the route is defined in close collaboration with the authorities of the countries crossed, in order to avoid zones which need protecting, such as national parks…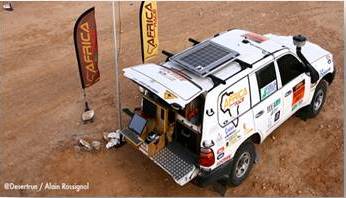 SUSTAINABLE PROJECTS

In 2014, one of the rally teams offered the installation of photovoltaic panels to an NGO "La Kaïma des petits" located in the center of Nouakchott.
"Planting a million trees over 2000 hectares around the city of Nouakchott. This was the challenge that wanted to do the Mauritanian capital by 2015. Objective: to prevent the advance of sand dunes and marine incursions. 2000 hectares in four years, 500 hectares per year".
The AFRICA ECO RACE® participates in the implementation of trees in Nouakchott, the Mauritanian capital. Thousands of eucalyptus Avenue Gamal Abdel Nasser to the beach and to the port will be planted to replace trees uprooted in the renovation.